Piano Music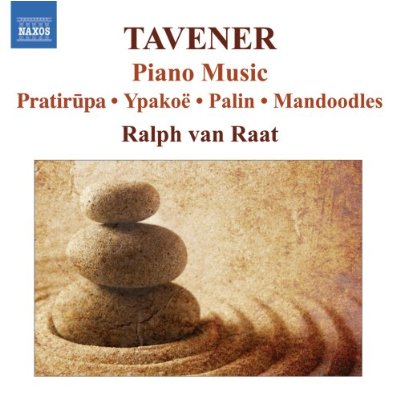 2008
Ralph van Raat, piano
The Eastern mysticism that Tavener has made his own - he has been a member of the Russian Orthodox church and imbibed its colours into his music - is present in most of these works. He does a good job of using the instrument's more limited resources to achieve similar effects to those in his larger orchestral and choral works. Yet the earlier works tread the line between consonance and dissonance in a way I find quite irritating. Ypakoë, for example, has a simple, profoundly spiritual melody which is allowed to sing out towards the middle and end of the piece. To get there, however, we have to put up with all manner of meanderings that seemed quite purposeless to me. Palin, his first piano work, features many instances when one key is sounded frequently and continuously for about 10 seconds at a time. It's meant to evoke approaching thunder, but it just sounds tedious.
The lighter works on this disc, tracks 4 and 6, are dedicated to the memory of Tavener's cats, and they see a return to traditional, triadic harmonies. These portraits are affectionate and warm: we even have glissandi to represent the pets running over the keys. Mandoodles contains jazz rhythms and reference to a Chopin Prelude, and In Memory of Two Cats is simple, bell-like and appealing. As with Ypakoë, an austerely beautiful melody is allowed space to sound. It is at moments like these that the disc is at its best and these get their fullest flowering in Pratirūpa, the longest and most recent work here.
All this suggests a sense of development in Tavener's style, from overt modernism through to a more sophisticated use of harmonies in his later works. The disc - the only one of this music? - is a welcome step in plugging this gap and any of the composer's fans who want to experience his broader range shouldn't hesitate. Performances are highly committed and the sound is up to the usual Naxos high standard.
Download.
The Protecting Veil
1992
Steven Isserlis, Cello; Gennady Rozhdestevensky / London Symphony Orchestra
The Protecting Veil
is a musical composition for cello and strings by British composer John Tavener. Completed in 1988, the work was at first a suggestion from cellist Steven Isserlis and subsequently commissioned by the BBC for the 1989 Proms season. The inspiration of the piece comes from the Orthodox feast of the Protecting Veil of the Mother of God, which commemorates the the apparition of Mary the Theotokos in the early 10th century at the Blachernae Palace church at Vlacherni, Constantinople.
This CD also contains Tavener's
Thrinos
suite for string, and Benjamin Britten's Third Suite for Cello.
Download.
The Best of John Tavener
2004; 11 tracks
Here is a collection of Tavener's most beautiful music. This album solidifies my admiration for Tavener - he really is one of the most amazing contemporary classical composers I've ever heard. His idea of "holy minimalism" in music is fascinating as well.
Download.